The Government Office function allows changing a funding office into a contracting office and associating start and end dates to the newly-named contracting office thereby making it active for a given time period.
The screen also allows associating parent organization codes and functional dimensions with the contracting office. (This is allowed only for DoD and not civilian agencies.)
The 'SaveAsNew' functionality allows the user to create a future active contracting office.
The parent organization code is defaulted to the agency code of the funding office.
Functional Dimensions are optional and up to three functional dimensions can be associated with a contracting office. (allowed only for DoD)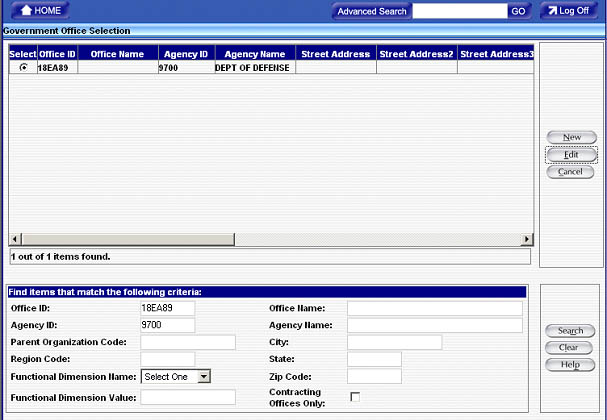 The following table shows which search criteria fields are searchable by DoD users and which ones are searchable by civilian users.
| | | |
| --- | --- | --- |
| Function | DoD | Civilian |
| Parent Organization Code | Yes | No |
| Functional Dimension Name | Yes | No |
| Functional Dimension Name | Yes | No |
| Contracting Offices Only | Yes | No |
| Office ID | Yes | Yes |
| Agency ID | Yes | Yes |
| Agency Name | Yes | Yes |
| Office Name | Yes | Yes |
| City | Yes | Yes |
| State | Yes | Yes |
| ZIP Code | Yes | Yes |
Once you have refined your search criteria and performed your search, you may select the desired office using the radio button on the left of the screen. Then select edit

.
The edit screen will be displayed.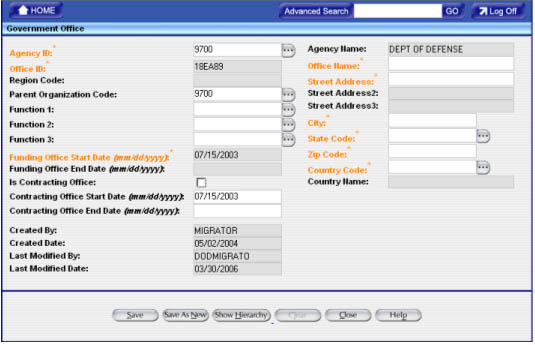 If the funding office is already a Contracting Office, the Is Contracting Office check box will be checked. If it is not checked, place a check mark in the box to the right of Is Contracting Office, (if you want to set the office as a contracting office)
The user may designate up to three Functional Dimensions using the

button to the right of the Functional Dimension fields.
Designate the effective date that the Funding Office is to become a Contracting Office (As per FPDS design, for DoD, an office can be funding or both funding or contracting. It can not be only contracting) also and if applicable, designate the end date. A Contracting Office effective period may be open-ended.
Complete all mandatory information indicated by orange print.
If the effective date is same as system date or prior to system date

If the effective date is in another time period, select